Leo Languages News Blog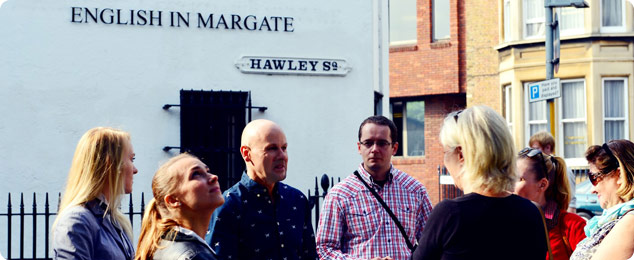 Recent News...
Oxford Fun Run 2017

Six of our students took a coach trip to Oxford on Saturday accompanied by two teachers - Robin and Faizal. It was an early start, 7.30am to be precise but everyone turned up bright eyed and bushy tailed ready for the action packed day ahead.

Our first stop as we arrived in Oxford was The University Parks where we represented the school in the Oxford Rotary Club annual fun run. There was just time for a quick stretch of the limbs and then it was straight into a 5km run which equated to two laps of the park.

400 runners in total took the start line and all competitors finished the race! Meshari and Mickael were the first EIM students to cross the line in a very respectable time of 20 and 22 minutes respectively. Meshari finished in 14th place and Mickael, a seasoned competitor finished in 18th. Rene was third to cross followed by Beatriz and Weiqi all inside the 45 minute barrier. Ahmed, our final competitor bought up the rear, although he had had some delays during the race!

Unfortunately this year EIM did not win any of the prizes unlike the previous year when we scooped the trophy for best fancy dress costume!

The organisers then provided a BBQ for all the competitors and we were able to replenish ourselves with a tasty burger and a drink.

After changing out of our running gear back into normal clothes, Robin then took us intrepid explorers on a comprehensive tour of the city. Having grown up in the city, Robin is an expert in all things around Oxford and our first stop was The Eagle and Child pub where 'The Inklings' used to meet in the 1950's. 'The Inklings' were a group of Oxford University lecturers who used to meet here for literary and intellectual conversation – former alumni include J.R Tolkien (Lord of the Rings) and C.S Lewis (The Chronicles of Narnia).

After we ploughed on into the centre of Oxford and our next stops were Baliol College and Christchurch College – The Dining Hall here was used as the inspiration and model for Hogwarts School in The Harry Potter films and by the size of the crowds it proves to be a very popular attraction. Along the way we also stopped at the Martyr's memorial which was a great reminder that we thankfully, we now live in a time of religious freedom.

We then took a tour of The History of Science museum. Here we got to see the exact blackboard that Einstein had used when he visited Oxford in 1931. The blackboard has been preserved with the formulas Einstein had written 86 years ago.

There was still time to see St John's college and The Radcliffe Camera which is home to hundreds of thousands of books! Finally we stopped at The Ashmolean Museum where we saw the rise of modernism in art encompassing illustrious names such as Picasso, Matisse, Renoir and Degas.

There were a few tired bodies at the end of the day but all agreed it was a thoroughly enjoyable and educational day out and I urge anybody who hasn't been to visit Oxford!
Artificial Intelligence

So Talk-Fight Club is living up to its name – Talk about controversy! Talk about clash of opinions! Talk about not being afraid to grab the thorny issues! Go on, talk about it. It was like Johnny Wilkinson versus Jonah Lomu but with less grunting and longer words.

Before you read on, we recommend you put on some suitable background music. Here are a couple of suggestions:

Soundtrack to Bladerunner
Anything by Kraftwerk, but the obvious one is 'We Are The Robots'

This week, Hans Andrea threw the funny-shaped ball of polemic into a scrimmage of eminent souls:

Amina, Camilla, Cecilia and Jairo, some of whom, quite aside from their arguments, may have inadvertently proved the argument for AI, as their stomachs rumbled away (AI 'robots' don't need feeding, or not in the same way).

Things kicked off dizzyingly deep: What does it mean to be human? Latin factions within the group cited conscience and having a soul.

This set the tone for the increasingly heated debate, which might be boiled down to 'Mechanics vs Emotion'. Those on the side of developing AI argued that AI 'robots' (called replicants in the film Bladerunner or Synths in the C4 series Humans) have much more stamina than humans, therefore can be sent on long-range (More than 90-day) space missions, amongst many other possibilities. A huge advantage AI beings have over us is that they do not age.

On the other hand, those to whom the whole idea seems beyond the pale were reluctant to accept that AI brains could mimic human ones. As Jairo the Hungry said,

Exact copies of masterpiece paintings are impossible.

Cecilia added:

Everyone has different conditioning. (So every human is different)

Camilla piled in too:

The brain isn't mechanical, so you can't simply transfer data

Amina got more and more worked up (to Hans-Andrea):

Are you a doctor? Are you? Are you?

Hans-Andrea remained chillingly calm:

A perfect simulation is possible…

Further reading: https://en.wikipedia.org/wiki/Human_Brain_Project
Literature – What is it?

The first EiM Talking Club (Like Fight Club but less bloody) was held last Wednesday 9th Nov, brainchild of Hans-Andrea. Hans was joined by fellow eminent intellectuals Jairo, Camilla, Maxime, Cecilia and Amina. The sparks flew as themes-within-theme such as Romanticism (not romantic novels) to Manga and & Manhwa were picked apart, as was empathy in literature and the importance of character in contrast or as a complement to narrative.

There were shocking and provocative remarks: According to Amina, a text message can be literature; According to Camilla, more and more, literature is becoming synonymous with art; According to a mysterious participant, Bob Dylan getting the Nobel prize for literature has redefined literature. Hans, as befits his role as talk organiser, asks: Does everything have to be perfect in order for it to be literature?

No debate about the high arts would be complete without an inspiring quote or two. There was one from Gustavo Adolfo Bécquer:

What is poetry? You ask as you fix

My gaze with your blue eyes.

What is poetry? You of all people would ask me?

Poetry… is you.

And one from Maxime, in reference to the Narnia series by CS Lewis:

It made me feel like I was living the story…

After much controversy, conclusions were reached: Literature cannot be literature without words; Music can only accompany, embroider, and complement literature; Literature pulls in everything around it.

A suggestion by Mali for further reading

Please see Hans-Andrea about next week's theme, Artificial Intelligence. Remember, you may need to watch, listen to or read something in preparation.
Ewa, a partner agent in Poland writes

Thank you very much for everything. I am very happy. I knew that your school was good because all students were happy and the teachers must be good as well.

But I could see that they were better than I thought. I am impressed. And Francisca who spend 30 years at Escuela Oficial de Idiomas was impressed by school organization and management.

In two words : you are the best :)

Ewa
Half Marathon in Switzerland

Adam enjoying a beer with Nick and Walter, right, (CEO of Liden & Denz schools in Moscow and St Petersburg) after half marathon around lake Greifensee, Zurich.








A letter from an agent after a Fam Trip

Katerina on top of the world… the wonderful Sands Hotel in Margate!

Dear Adam,

Thank you so much for seeing me yesterday , showing Margate and taking me to a stunning restaurant. It was a pleasure to meet you and your lovely team. Margate is a beautiful place , so hopefully I can send more students to your school.

Katerina Educompass, London
IALC '16 Workshop

A big thank you to CES and brothers Justin, Michael and Jonathan and Melton College's Andrew for hosting a wonderful IALC '16 workshop (and party!) in Yorkshire. English in Margate has been a proud member of the great worldwide schools' association IALC since 2008.

And many congratulations to Luca and his team at ALCE in Bologna for winning the bid to host the 2018 IALC workshop. Luca is pictured here on the left at our AGM and would put the 'B' in Bologna – if he were facing the other way!

I hope to see you at the next IALC workshop in 2017 at ELC, Boston
Our local organiser and host teacher in East Anglia

Adam was very happy to welcome Annette and her daughter to Margate on a beautiful sunny Spring day. Here they are in front of the Turner Contemporary gallery in Margate.

Annette has been a host teacher for ILH for nearly 20 years and in the time has welcomed over 100 happy students. We are delighted that Annette, who lives near Colchester, is our Local Organiser for East Anglia, a location especially popular for juniors on our Summer Special programme
Oxford Fun Run

English in Margate once again sent a group of brave runners to take part in the charity 5K run organised by the Rotary Club in Oxford. Thibault, Jake and Lukas gave everything they had in a race with around 500 participants and finished the run with very good times. As well as winning the individual prize for best fancy dress, Thibault finished 9th overall with an excellent 19'08", Jake finished 41st in 22'54" and Lukas finished 109th in 27'34".

Well done to the English in Margate team and we look forward to participating again next year!
Another successful Teacher Training Course completed!

Tom, Leyla, Natalie, Alice and Maria have successfully completed our CertTESOL teacher training course, validated by Trinity College London. After a very intense 4-week period, our brilliant trainees can finally relax a little and enjoy the well-deserved qualification. Well done to all of you and we look forward to starting our next course from 3rd to 28th October: bookings are now accepted!
Study in the UKs Number 2 tourist destination after London

English in Canterbury mini-brochure is now available as a download here and at www.englishincanterbury.com

And available as part of the updated 48-page Leo Languages brochure for 2016
LEO LANGUAGES is coming to Canterbury

English in Margate now offers a unique summer residential programme in the cathedral city of Canterbury, the UK's number 2 tourist destination after London. The programme is for students aged 16+.

Generally students aged 16/17 wanting to do a residential programme have had to suffer a summer camp course with 80% of the students much younger than themselves which is no fun at all for them. On our English in Canterbury programme they can now be on an adult programme in the heart of this historic city.

All the spacious bedrooms with small double beds are en-suite in a brand new 5 star residence in the city centre. The programme is also ideal for mature students (eg 50+ programme although I do not like to use that tag) who want high quality residential accommodation combined with a language course in a university that is focussed on communicative English and very much linked to the cultural programme in the afternoons and evenings. It's special!

Our Summer residential programme for adults (16+) runs on the following course dates:

July 3 - 16
July 17 - 30
July 31 - August 13
Agent Visit from Interstudy Consulting

Recently Jan and Inga from Interstudy Consulting came down to Margate to view our facilities and see the local area - they had a lot of fun and took in the sights!

" I would like to express once more a lot of thanks for your care and a wonderful service in Margate. I haven't expected that the area round the Eastern Coast is so nice, really a spa. " - Inga

If you're an agent and you haven't seen Margate yet you're in for a treat! Just email Adam at adam.wilton@leolanguages.com to arrange.
Would you believe it?

Patrik, a financial consultant from Prague, took an ILH course in the teacher's home in Margate, Florida, USA earlier this year and this week Patrik is on his second ILH course of the year, again in Margate but this time Margate in Kent, UK.

Adam was very happy to meet Patrik yesterday when he took time out of his host teacher family to come down to English in Margate and join in the business English sessions here and watch the student presentations.

Interestingly, both Margate, Kent and Margate Florida have clock-towers. But do you know which one in the image above is in Margate, Kent?
Our Location
Head Office
Address:
Leo Languages Office
The Towers,
Hawley Square,
Margate,
Kent
CT9 1PH
England
Office Hours:
9am - 5pm Monday to Friday (UK) Time
Phone: +44 (0)1843 227700